Cruel Blood Oath is a large sword in NieR: Automata.
Description
Edit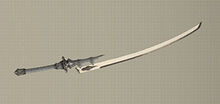 "A black katana kept by warrior monks of the East."
"This warrior's sword has been stained jet black with the blood of years of conflict.
Location
Edit
In the underground portion of the first desert area after the Desert: Camp access point. It is placed behind an iron door, which can be unlocked by hacking it with 9S.
Level 1

"I'll never forget the time we met. I knew ours was a love that would last for eternity."

Level 2

"But even when by his side, his feelings were a mystery. It was painful not to know what he was thinking. So painful."

Level 3

"When I was close, I hurt him. Yet being distant hurt him more."

Level 4

"I finally found my place in life. A place where I am as close as possible, yet eternally distant."
In the main story of NieR: Automata, Cruel Blood Oath is 9S's weapon but the story it describes most likely is about 2B.
Ad blocker interference detected!
Wikia is a free-to-use site that makes money from advertising. We have a modified experience for viewers using ad blockers

Wikia is not accessible if you've made further modifications. Remove the custom ad blocker rule(s) and the page will load as expected.