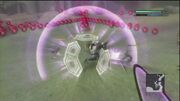 Dark Gluttony is the fifth Sealed Verse in NieR RepliCant and NieR Gestalt (NIER) , which is unlocked after defeating Defense System Gepetto in Junk Heap.
When used, Dark Gluttony releases a short impulse in the form of four barriers around him, which repel any magic orbs in the near proximity, which then can harm enemies. If the button is hold, Nier will suck up all red orbs around him and combines them into one giant orb that ravages through all enemies, knocking them back and destroying all projectiles, including the dark ones, in a straight line. The more orbs Nier has collected, the bigger it will be and the more damage it will deal. Although, only the normal red orbs can be absorbed, not the dark ones. While absorbing, his movement speed is greatly limited.
Ad blocker interference detected!
Wikia is a free-to-use site that makes money from advertising. We have a modified experience for viewers using ad blockers

Wikia is not accessible if you've made further modifications. Remove the custom ad blocker rule(s) and the page will load as expected.