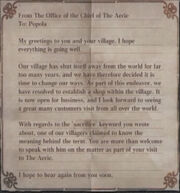 The Letter from the Chief of The Aerie is sent to Popola after Nier returns from Facade in the second half of the game.
From The Office of the Chief of The Aerie
To: Popola
My greetings to you and your village. I hope everything is going well.
Our village has shut itself away from the world for far too many years, and we have therefore decided it is time to change our ways. As part of this endeavor, we have resolved to establish a shop within the village. It is now open for business, and I look forward to seeing a great many customers visit from all over the world.
With regards to the "sacrifice" keyword you wrote about, one of the villagers claimed to know the meaning behind the term. You are more than welcome to speak with him on the matter as part of your visit to The Aerie.
I hope to hear again from you soon.
Ad blocker interference detected!
Wikia is a free-to-use site that makes money from advertising. We have a modified experience for viewers using ad blockers

Wikia is not accessible if you've made further modifications. Remove the custom ad blocker rule(s) and the page will load as expected.