Welcome to the
NIER Wiki is a collaborative website about the NIER video games that anyone can edit!
NIER is an action role-playing game developed by Cavia and published by Square Enix.
There are 235 pages and 615 files on the Wiki since March 2010.
About • Administration • New pages • New files • Sandbox
Note: This wiki contains a plethora of SPOILERS. Read at your own risk!
Content
Characters

Locations

Weapons

Enemies

Sealed Verses

Novellas
Did You Know
...that Father Nier can do a stomach dance with his muscly abdomen that makes young children cry?
...that Devola is good at tying a cherry stem with her tongue?
Featured Article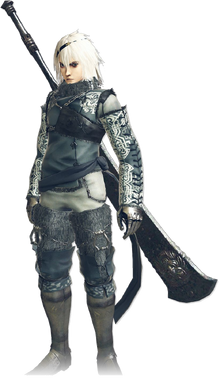 Nier serves as the protagonist of NieR RepliCant. Described as an "unyielding protagonist," he will do whatever it takes to help his sister, Yonah.
Featured Media
A song sung by Devola and Popola as a duet, and is a variation of Song of the Ancients. This song can only be heard during their sidequest.
Poll
Who is your favourite character?