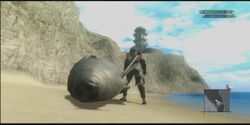 Seals are creatures found in Seafront during the first half of the game. They are always laying on the beach, not doing anything. They disappear during the second half of the game.
"It seems that there was once a time in the past that seals were treated as valuable beings. While you may not believe it now, it was said that when seals appear back in those days, humans will gather around and watch them as though it is an attraction.
Thereafter, everyone treated the seals with great care and raised them to the point where and they got too big to move. Their numbers increased so much that it got out of hand. They are unpalatable, people couldn't bear killing them, and moving them is a bother. So when it is time to consider what needs to be done, they decided that they will leave the seals as the guardian deity of the city...and that is how it is."
Ad blocker interference detected!
Wikia is a free-to-use site that makes money from advertising. We have a modified experience for viewers using ad blockers

Wikia is not accessible if you've made further modifications. Remove the custom ad blocker rule(s) and the page will load as expected.