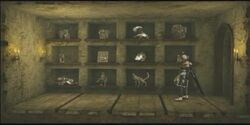 For the PS3 and XBox 360 trophies and achievements, see Achievements and Trophies.
The Trophy Room is a room in NieR RepliCant and NieR Gestalt (NIER) that shows all the bosses that have been defeated by Nier in the game. It is found in The Library, across the hall from Popola's office.
Ad blocker interference detected!
Wikia is a free-to-use site that makes money from advertising. We have a modified experience for viewers using ad blockers

Wikia is not accessible if you've made further modifications. Remove the custom ad blocker rule(s) and the page will load as expected.