Virtuous Treaty is a two-handed sword in NieR: Automata. It is 2B's secondary sword in the Demo 120161128.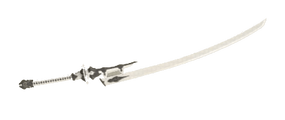 Description
Edit
"A white katana kept by samurai of the east."
Location
Edit
While 2B initially has Virtuous Treaty, it is lost after fighting Goliath and must be re-obtained at the bridge just before the fight with Goliath.
Weapon Story
Edit
[level 1]
FIRST ENCOUNTER WITH MY LOVER
[level 2]
FAILED TO CONNECT WITH MY LOVER
[LEVEL 3]
FAR AWAY WENT MY LOVER
Ad blocker interference detected!
Wikia is a free-to-use site that makes money from advertising. We have a modified experience for viewers using ad blockers

Wikia is not accessible if you've made further modifications. Remove the custom ad blocker rule(s) and the page will load as expected.