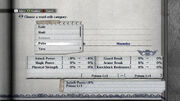 "Blood is sound, sound is words, and words are power!"
—Grimoire Weiss
Words are the magical spells in NieR RepliCant and Nier Gestalt (NIER) that Nier can equip to improve and customize his weapons, skills, and magic. They are acquired when Shades are killed. Some Words have a specific chance to drop of a particular Shade-type in a specific area, while others can drop randomly by any Shade. There are 120 in total.
Words are specifically bound to one of two different Slots.
| Word | Type | Effect | Notes |
| --- | --- | --- | --- |
| Pah | Weapon | Strength +2% | Usable with weapons only. |
| Paha | Weapon | Strength +4% | Usable with weapons only. |
| Pahi | Weapon | Strength +6% | Usable with weapons only. |
| Paho | Weapon | Strength +8% | Usable with weapons only. |
| Pahu | Weapon | Strength +10% | Usable with weapons only. |
| Pahal | Weapon | Strength +12% | Usable with weapons only. |
| Pahil | Weapon | Strength +15% | Usable with weapons only. |
| Pahol | Weapon | Strength +20% | Usable with weapons only. |
| Pahul | Weapon | Strength +25% | Usable with weapons only. |
| Pahuloth | Weapon | Strength +30% | Usable with weapons only. |
| Var | Weapon | Guard Break +2% | Usable with weapons only. |
| Vara | Weapon | Guard Break +4% | Usable with weapons only. |
| Vari | Weapon | Guard Break +6% | Usable with weapons only. |
| Varo | Weapon | Guard Break +8% | Usable with weapons only. |
| Varu | Weapon | Guard Break +10% | Usable with weapons only. |
| Varal | Weapon | Guard Break +12% | Usable with weapons only. |
| Varil | Weapon | Guard Break +15% | Usable with weapons only. |
| Varol | Weapon | Guard Break +20% | Usable with weapons only. |
| Varul | Weapon | Guard Break +25% | Usable with weapons only. |
| Varuloth | Weapon | Guard Break +30% | Usable with weapons only. |
| Geb | Magic | Magic Power +2% | Usable with magic only. |
| Geba | Magic | Magic Power +4% | Usable with magic only. |
| Gebi | Magic | Magic Power +6% | Usable with magic only. |
| Gebo | Magic | Magic Power +8% | Usable with magic only. |
| Gebu | Magic | Magic Power +10% | Usable with magic only. |
| Gebal | Magic | Magic Power +12% | Usable with magic only. |
| Gebil | Magic | Magic Power +15% | Usable with magic only. |
| Gebol | Magic | Magic Power +20% | Usable with magic only. |
| Gebul | Magic | Magic Power +25% | Usable with magic only. |
| Gebuloth | Magic | Magic Power +30% | Usable with magic only. |
| Ul | Magic/Weapon | Armor Break +2% | Usable with both magic and weapons. |
| Ula | Magic/Weapon | Armor Break +4% | Usable with both magic and weapons. |
| Uli | Magic/Weapon | Armor Break +6% | Usable with both magic and weapons. |
| Ulo | Magic/Weapon | Armor Break +8% | Usable with both magic and weapons. |
| Ulu | Magic/Weapon | Armor Break +10% | Usable with both magic and weapons. |
| Ulal | Magic/Weapon | Armor Break +12% | Usable with both magic and weapons. |
| Ulil | Magic/Weapon | Armor Break +15% | Usable with both magic and weapons. |
| Ulol | Magic/Weapon | Armor Break +20% | Usable with both magic and weapons. |
| Ulul | Magic/Weapon | Armor Break +25% | Usable with both magic and weapons. |
| Ululoth | Magic/Weapon | Armor Break +30% | Usable with both magic and weapons. |
| Hod | Martial Arts | Knockback Res +2% | Usable with martial arts only. |
| Hoda | Martial Arts | Knockback Res +4% | Usable with martial arts only. |
| Hodi | Martial Arts | Knockback Res +6% | Usable with martial arts only. |
| Hodo | Martial Arts | Knockback Res +8% | Usable with martial arts only. |
| Hodu | Martial Arts | Knockback Res +10% | Usable with martial arts only. |
| Hodal | Martial Arts | Knockback Res +12% | Usable with martial arts only. |
| Hodil | Martial Arts | Knockback Res +15% | Usable with martial arts only. |
| Hodol | Martial Arts | Knockback Res +20% | Usable with martial arts only. |
| Hodul | Martial Arts | Knockback Res +25% | Usable with martial arts only. |
| Hoduloth | All Categories | Knockback Res +30%/Level 9 status effect  | Usable with all categories, levels up status effects(ex.poisonlvl.9) |
| Bes | Martial Arts | Physical Str +2% | Usable with martial arts only. |
| Besa | Martial Arts | Physical Str +4% | Usable with martial arts only. |
| Besi | Martial Arts | Physical Str +6% | Usable with martial arts only. |
| Beso | Martial Arts | Physical Str +8% | Usable with martial arts only. |
| Besu | Martial Arts | Physical Str +10% | Usable with martial arts only. |
| Besal | Martial Arts | Physical Str +12% | Usable with martial arts only. |
| Besil | Martial Arts | Physical Str +15% | Usable with martial arts only. |
| Besol | Martial Arts | Physical Str +20% | Usable with martial arts only. |
| Besul | Martial Arts | Physical Str +25% | Usable with martial arts only. |
| Besuloth | Martial Arts | Physical Str +30% | Usable with martial arts only. |
| Word | Type | Effect | Notes |
| --- | --- | --- | --- |
| Lug | Magic | Magic Cost -2% | Usable with magic only. |
| Lugir | Magic | Magic Cost -4% | Usable with magic only. |
| Luges | Magic | Magic Cost -6% | Usable with magic only. |
| Lugka | Magic | Magic Cost -8% | Usable with magic only. |
| Lugza | Magic | Magic Cost -10% | Usable with magic only. |
| Lugira | Magic | Magic Cost -12% | Usable with magic only. |
| Lugesra | Magic | Magic Cost -15% | Usable with magic only. |
| Lugkarr | Magic | Magic Cost -20% | Usable with magic only. |
| Lugzarr | Magic | Magic Cost -25% | Usable with magic only. |
| Lugzarken | Magic | Magic Cost -30% | Usable with magic only. |
| Ot | Weapon/Magic | EXP +2% | Usable with both magic and weapons. |
| Otir | Weapon/Magic | EXP +4% | Usable with both magic and weapons. |
| Otes | Weapon/Magic | EXP +6% | Usable with both magic and weapons. |
| Otka | Weapon/Magic | EXP +8% | Usable with both magic and weapons. |
| Otza | Weapon/Magic | EXP +10% | Usable with both magic and weapons. |
| Otira | Weapon/Magic | EXP +12% | Usable with both magic and weapons. |
| Otesra | Weapon/Magic | EXP +15% | Usable with both magic and weapons. |
| Otkarr | Weapon/Magic | EXP +20% | Usable with both magic and weapons. |
| Otzarr | Weapon/Magic | EXP +25% | Usable with both magic and weapons. |
| Otzarrken | Weapon/Magic | EXP +30% | Usable with both magic and weapons. |
| Mah | Weapon/Magic | Item Drops +2% | Usable with both magic and weapons. |
| Mahir | Weapon/Magic | Item Drops +4% | Usable with both magic and weapons. |
| Mahes | Weapon/Magic | Item Drops +6% | Usable with both magic and weapons. |
| Mahka | Weapon/Magic | Item Drops +8% | Usable with both magic and weapons. |
| Mahza | Weapon/Magic | Item Drops +10% | Usable with both magic and weapons. |
| Mahira | Weapon/Magic | Item Drops +12% | Usable with both magic and weapons. |
| Mahesra | Weapon/Magic | Item Drops +15% | Usable with both magic and weapons. |
| Mahkarr | Weapon/Magic | Item Drops +20% | Usable with both magic and weapons. |
| Mahzarr | Weapon/Magic | Item Drops +25% | Usable with both magic and weapons. |
| Mahzarken | Weapon/Magic | Item Drops +30% | Usable with both magic and weapons. |
| Ashur | Weapon/Magic/Martial Art | Paralyze/Physical Defense +2% | Usable with both magic, martial arts and weapons. |
| Ashurir | Weapon/Magic/Martial Art | Confuse/Physical Defense +4% | Usable with both magic, martial arts and weapons. |
| Ashures | Weapon/Magic/Martial Art | Poison/Physical Defense +6% | Usable with both magic, martial arts and weapons. |
| Ashurka | Weapon/Magic/Martial Art | Weaken/Physical Defense +8% | Usable with both magic, martial arts and weapons. |
| Ashurza | Weapon/Magic/Martial Art | MP Drain/Physical Defense +10% | Usable with both magic, martial arts and weapons. |
| Ashurira | Weapon/Magic/Martial Art | HP Drain/Physical Defense +12% | Usable with both magic, martial arts and weapons. |
| Ashuresra | Martial Art | Physical Defense +15% | Usable with martial arts only. |
| Ashurkarr | Martial Art | Physical Defense +20% | Usable with martial arts only. |
| Ashurzarr | Martial Art | Physical Defense +25% | Usable with martial arts only. |
| Ashurzarken | Martial Art | Physical Defense +30% | Usable with martial arts only. |
| Kon | Weapon/Magic/Martial Art | Poison/Magic Defense +2% | Usable with both magic, martial arts and weapons. |
| Konir | Weapon/Magic/Martial Art | Paralyze/Magic Defense +4% | Usable with both magic, martial arts and weapons. |
| Kones | Weapon/Magic/Martial Art | Confuse/Magic Defense +6% | Usable with both magic, martial arts and weapons. |
| Konka | Weapon/Magic/Martial Art | Weaken/Magic Defense +8% | Usable with both magic, martial arts and weapons. |
| Konza | Weapon/Magic/Martial Art | MP Drain/Magic Defense +10% | Usable with both magic, martial arts and weapons. |
| Konzira | Weapon/Magic/Martial Art | HP Drain/Magic Defense +12% | Usable with both magic, martial arts and weapons. |
| Konesra | Martial Arts | Magic Defense +15% | Usable with martial arts only. |
| Konkarr | Martial Arts | Magic Defense +20% | Usable with martial arts only. |
| Konzarr | Martial Arts | Magic Defense +25% | Usable with martial arts only. |
| Konzarken | Martial Arts | Magic Defense +30% | Usable with martial arts only. |
| Sol | Weapon/Magic/Martial Art | Confuse/MP Recovery +2% | Usable with both magic, martial arts and weapons. |
| Solir | Weapon/Magic/Martial Art | Poison/MP Recovery +4% | Usable with both magic, martial arts and weapons. |
| Soles | Weapon/Magic/Martial Art | Paralyze/MP Recovery +6% | Usable with both magic, martial arts and weapons. |
| Solka | Weapon/Magic/Martial Art | Weaken/MP Recovery +8% | Usable with both magic, martial arts and weapons. |
| Solza | Weapon/Magic/Martial Art | MP Drain/MP Recovery +10% | Usable with both magic, martial arts and weapons. |
| Solira | Weapon/Magic/Martial Art | HP Drain/MP Recovery +12% | Usable with both magic, martial arts and weapons. |
| Solesra | Martial Art | MP Recovery +15% | Usable with martial arts only. |
| Solkarr | Martial Art | MP Recovery +20% | Usable with martial arts only. |
| Solzarr | Martial Art | MP Recovery +25% | Usable with martial arts only. |
| Solzarken | Martial Art | MP Recovery +30% | Usable with martial arts only. |